Term 4 Week 8- November 28th, 2023
From The Principals Desk
Dear Parents and Carers,
Parish Christmas Carnival and Tableau - Thank you!
I would like to firstly send a huge thank you to those family members and staff who volunteered their time on Saturday supporting the BBQ at the Parish Christmas Carnival. Your time and effort during what is always a busy evening preparing and serving food to the masses is greatly appreciated! It was another successful Christmas Carnival, the last surviving of its kind in our whole diocese.
The tableau dancers and narrators from our stage 3 cohort did wonderfully in their roles during the nativity presentation to a full house in the Gilbey centre. A beautiful way to round out the evening with the true meaning of Christmas appreciated and celebrated by all in attendance. A massive thanks and congratulations to the students and staff involved in the hours of preparation and performance of the tableau. Well done!
Thanksgiving Mass - Gratitude, Mr Nihill's retirement
Our annual Thanksgiving mass takes place tomorrow. The mass will be held in the K-2 classrooms due to the church being unavailable, it is a new use for this space and we hope that it will provide the adequate protected space for those wishing to join us at this mass.
Our Thanksgiving Mass is where we celebrate the extraordinary year we have had at St Joseph's while this year we also acknowledge the service of Mr Ray Nihill to our school community over the past 26 years. Ray will be retiring at the end of this year.
Swimming Carnival Friday - Presentation Monday afternoon at 2.30pm
We have our School Swimming Carnival this Friday for classes 3-6 (including some competitive 'of age' stage 1 students). The carnival will be held in the 25m indoor pool, therefore space will be tight on the day. Parents are welcome to join us, perhaps bring yourself a chair! We wish the students well for Friday. Due to the space restrictions, less lanes and time frame we will be holding the presentation for the carnival the following Monday afternoon at 2.30pm at school.
Student Leadership - Well done Year 5 Nominees!
We were so proud of our year 5 students yesterday as they took on the challenge of persuading the school audience to vote them in as School Captain and Sport Captains! It's been so wonderful to see so many of our year 5 class nominate themselves for leadership roles next year - the most ever from a single cohort! Such confidence and resilience! Well done boys and girls, the votes are rolling in…all will be revealed at next Wednesday's Presentation Day. Good luck!
MAI Bookings are live!
We will be holding Maths Assessment Interviews for years 1-6 again at the beginning of next year. A staggered start to the year as per previous years. MAI's will take place through Wednesday 31st January - Friday 2nd February 2024. Please ensure that you book your time slot soon and place it in your calendar for the beginning of next year.
Families leaving? Please let us know.
As we near the end of the year, it is important that we know if all our families are definitely returning to our school in 2024. If you know that your family or students will not be returning to St Joseph's please let us know as soon as possible.
School Fees - please pay by the end of the year.
All families have been invoiced for their school fees throughout the year. We thank those families who have met this obligation to support our resourcing and the education of your children. Every fee paid has a direct impact on the opportunities available to your child's experience at our school, including class resources, staffing, equipment, furniture and even site maintenance. It is important that we have all fees finalised prior to the end of the year.
It certainly is that busy time of year! A time for reflection, gratitude and celebration. All are invited and welcome to join us at our end of year events, especially tomorrow's Thanksgiving mass and acknowledgement of Mr Nihill, Year 6 Graduation next Tuesday night and Presentation of Awards and Leadership next Wednesday morning.
Have a great couple of weeks!
Peace and blessings,
Jason Clarke
Principal
"You Can Do It!" Awards
Celebrating Success
Week 6
Kinder
Jayliah Walsh for Confidence and "I Can Do It" Thinking.
Lincoln John for Organisation and Planning My Time.
Year 1
Leo Asanuma for Getting Along and Being Socially Responsible.
Macy Butler-Baker for Persistence and Giving Effort.
Year 2
Hamish Walsh for Persistence and Giving Effort.
William Polson for Confidence and "I Can Do It" Thinking.
Year 3
Peggy Wilkinson for Resilience and "I Can Do It" Thinking.
Daisy Westwood for Confidence and "I Can Do It" Thinking.
Year 4
Misha Reed for Confidence and Taking a Risk.
Annabel Casey for Persistence and Giving Effort.
Year 5
Layla Walsh for Organisation and Planning My Time.
Ivy Hunt for Getting Along and Working Well with Others.
Year 6
Arlo Wilkinson for Persistence and Giving Effort.
Daniel Hoffman for Confidence and Showing "I Can Be Independent".
Week 7
Kinder
Leo Robinson for Confidence and Taking a Risk.
Halen Jandura for Getting Along and Being Socially Responsible.
Year 1
Nate Jarman for Persistence and "I Can Do It" Thinking.
Olivia Skarpona for Getting Along and Showing Tolerance of Others.
Year 2
Eli Reed for Persistence and Giving Effort.
Ayla Bourke for Confidence and "I Can Do It" Thinking.
Year 3
Loki Jenkins for Persistence and Giving Effort.
Ella Hunt for Taking a Risk and Having a Growth Mindset.
Year 4
Amira Folkers for Persistence and Giving Effort.
Will Hoffman for Getting Along and Showing Tolerance of Others.
Year 5
Blake Stuart for Confidence and Taking a Risk.
Max Bourke for Persistence and Working Tough.
Year 6
Ethan Donatini for Getting Along and Being Socially Responsible.
Nya Fox-Duong for Getting along and Showing Tolerance of Others.
Sharing the Gospel
Parish Carnival and Nativity Tableau
St. Joseph's truly thrives when united as a formidable team, and this spirit shone brightly during the Parish Carnival and Nativity Tableau. The buzz of chatter and laughter enveloped the BBQ area, where a growing number of parents, grandparents, and staff alike contributed to the success of the event with delicious food and camaraderie. Heartfelt gratitude goes out to our entire community for their efforts in managing the BBQ, generously contributing plants and bottles, and providing other items for a variety of stalls.
We want to give special recognition to a remarkable group of students whose leadership, dedication, and commitment during lunchtime and after-school sessions greatly enhanced the Nativity Tableau through their liturgical movement and narration. Witnessing their opening performance and hearing the narrators was a moment of pure joy. A big thank you to Mrs. Quinn and Mrs. Traise (and of course the Mum's and Dad's) for their support in assisting me in preparing the students for this memorable Parish event.
Vanessa Hughes
Assistant Principal - Mission
GOD MOMENT
When Darcy A and Selene made sure Mrs Martin was ok.
When Banjo, Luca and Braxton helped Year 4 to pack up cones at bell time.
Farewell Mr Nihill
The Many Phases and Faces of Mr Ray Nihill
Curriculum News
Junior Joey's
Merry Christmas from Junior Joey's and Year 5!

Junior Joey's and Year 5 joined together for one final transition day before they officially begin Kindergarten. It was a wonderful day celebrating and preparing for Christmas. We'd also like to extend a huge thank you to the families of the Junior Joey's for your wonderful support over the last few weeks. We can't wait to see your little ones as an offical St Joseph's student!
Day 5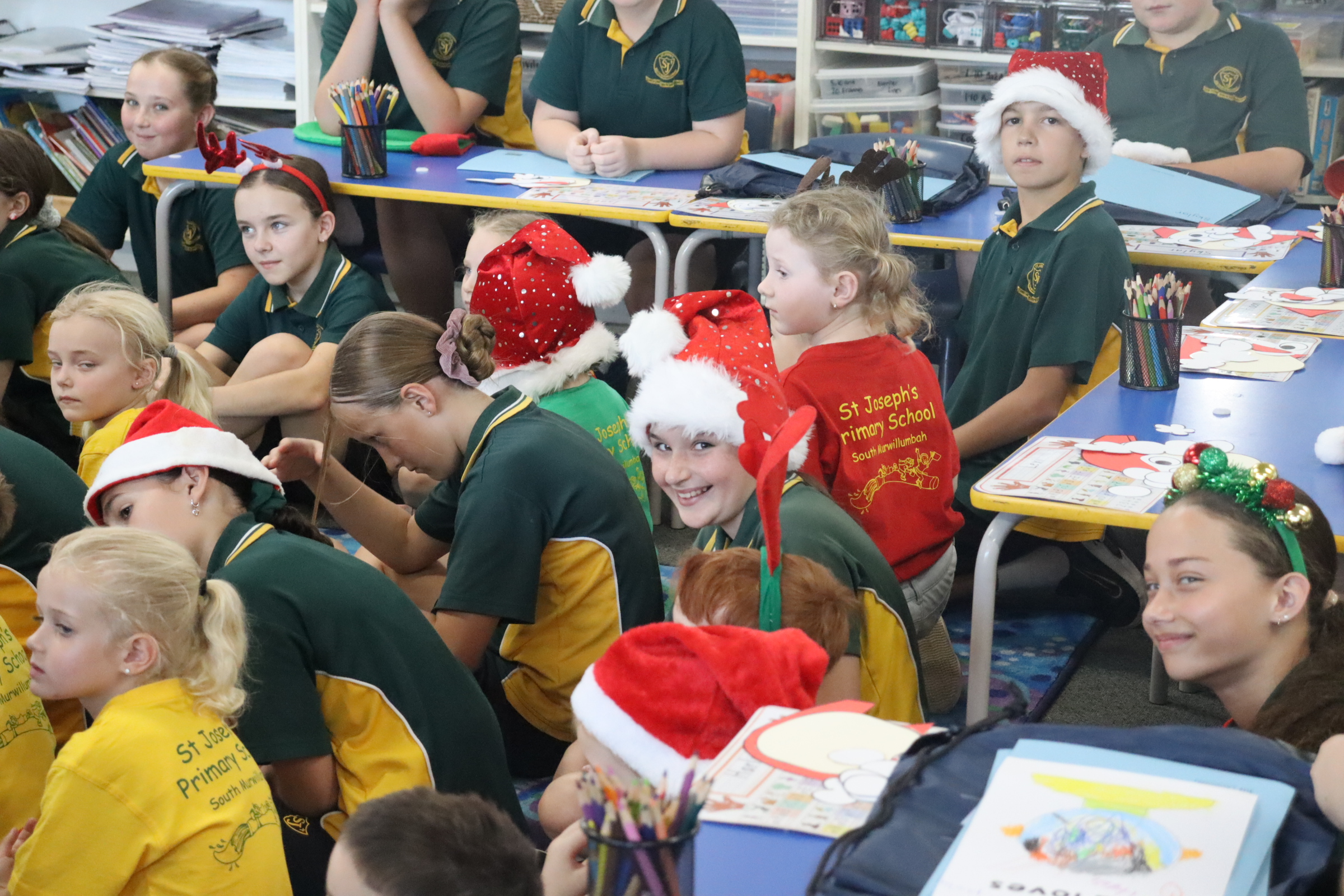 Library News
Premier's Reading Challenge 2023
Library borrowing has now finished for the year.
Please ensure your child has returned all their library books.
Sports News
DIOCESAN TRIALS
Last week 8 students travelled to Lismore for the Diocesan Summer Trials. Such a fantastic
effort to be a part of this day, well done to the following athletes:
Touch Football: Lani Smith, Violet Roe, Ava Hunt, Sienna Alexander and Ava Bray.
Basketball: Ivy Hunt, Bonnie Lindsay and Blake Stuart!
Blake Stuart and Ivy Hunt were named in the possibles / probables which is where the
selectors name a larger team to play off each other till the final / smaller team is determined.
Ivy Hunt was then named in the final Diocesan girls basketball team! Congratulations Ivy!
We wish you the best of luck at the Polding trials early next year in Coffs Harbour!
SWIMMING CARNIVAL:
Our Primary Swimming Carnival is taking place this Friday at Murwillumbah indoor pool! We are all looking forward to this event however, 24 students still require permission for this event. Please ensure you have approved your child's permission via Compass. If you are having difficulty with Compass, please call the office to give permission over the phone.
Students in Year 1 and Year 2 who were successful in their nomination to attend the swimming carnival have been sent a permission request. Parents please approve consent as soon as possible. Well done Millie Anderson, Mila Kendall, Meadow Chapman, Ayla Bourke, Will Polson, Luca Anderson, Eli Casey, Carter Alexander and Hamish Walsh!
When the morning bell goes, classes will mark the roll and walk down to the pool. Races are set to begin by 9.20am (time is a major factor this year with only 4 lanes available). Welcome to Country, prayer and announcements will take place across the road from the pool near the ANZAC memorial garden. A program and school records will go out via Compass and hardcopies also available.
There will be no canteen for students so please remember to pack treats with you along with plenty of good food to get you through an active day, water and any medication if required. Medication will be kept at the recording desk.
Races will be marshalled starting with the 12Yr boys / 12Yr girls and working down to the youngest age groups. Students will race the age they turn this year.
Space is allocated for parents near the front entrance area. All events are timed. There will be no finals so swim your fastest! Our priority is to get the competitive part of the carnival done so we can announce Age Champion / Runner Up Age Champion and progress students onto Zone. There will be a 25m Freestyle race but it is only for those who did not compete in the 50m Freestyle. All students will earn a point for participating. If time allows, we will run the 25m Backstroke, 25m Breaststroke and Relays.
The 200IM will take place at 2.30pm when all other students are walking back to school. I will stay behind to run this event with staff who are not with a class.
Age Champions / Runner Up Age Champions will be presented Monday at 2.30pm in the under croft. House cheers will take place after this presentation.
Zone Progression: 50m Freestyle take top 3 through to Zone in individual ages. All other 50m events take top 2 in Junior (8, 9 & 10Yrs combined), 11Yr & Senior (12 & 13Yrs). The 2 fastest 100m times in Boys and Girls progress through to Zone as it is an Open event. Zone relay times will be made up of the 4 fastest 50m freestyle times.
Starting procedure:
"Whistle" Competitors move on to blocks
"Take your mark" Move to starting position
Starter / gun Race begins
Thursday afternoon at 2.35pm, we will have a Colour House meeting just like we did the day before the Athletics Carnival. This is to go over any last minute reminders and practice our Colour House cheers.
No records can be broken on the day due to the pool only being 25m in length. An opportunity will be given at Zone or at Monday night races if your child is not competing at Zone.
JOEY'S COLOUR RUN:
We are looking forward to celebrating the end the school year with the Colour Run / obstacle course / dance party set for Friday 8th December on the school oval! No permission is required, parents are welcome and if you have water guns at home please bring them to help soak the students!
Please ensure your child comes to school in their oldest t-shirt as there is no guarantee of the colours washing out!
School Bus Travel 2024
General News
Thank you SRC!
On Friday at our assesmbly, our School Captains, Oskar Buckroyd and Arlo Wilkinson presented our Semester 2 SRC (as well as each other) with a certificate of appreciation for their wonderful service.
The last school day for students is Friday, 15th December.
LOST PROPERTY
There is a growing collection of containers, drink bottles and lunch boxes outside of the assembly room. If you recognise any familiar items pictured below, please ask your child to collect them as soon as possible and as always make sure all items are clearly labelled with your child's name.
Compass
Parish News
Tuesday 28 November 4:00 pm - Retreat 'Waiting with Mary'
5:30 pm - Mass
Wednesday 29 November NO Mass today
Thursday 30 November NO Mass today

Friday 1 December NO Mass today
Saturday 2 December 6:00 pm - Vigil Mass
Sunday 3 December 8:30 am - Rosary
9:00 am - Mass
10:00 am - Parish Cuppa/Morning Tea

Health & Wellbeing
Community News
Community Sports News
Holiday Vacation Care
Our Sponsors
Would you like to see your business advertised here?
If so, please contact the office on 02 6672 1867